New Born Development
Avery Anderson was 7 months old when her mother Paige brought her in to Dr. Tolmos'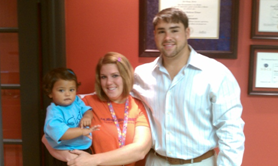 office. Paige met Dr. Tolmos at a health and wellness expo and explained to him that she had a very healthy baby. Since she previously knew Dr. Tolmos she decided to bring Avery in for a check-up.
During the consultation Paige did not mention that there were any problems or concerns with Avery. However after the first adjustment Paige called Dr. Tolmos and happily explained that Avery finally crawled for the first time!
It turns out that pressure around the brainstem was inhibiting Avery's natural development of motor and speech skills. Now she is modeling, excelling in school, and talking every one's ear off. We are blessed to be able to raise Avery with chiropractic to ensure her natural development of not only motor and speech skills but also her immune system function. Look out for a star in the future!