Unlike conventional medicine and even many other natural health care providers, the health care offered at Frontier Spine and Health Care in Miami emphasizes the importance of getting the right diagnosis to improve your health in an effort to reduce the risk of pain and prevent disease. Founded by Miami's first and currently only board certified chiropractic internist (DABCI), Frontier utilizes cutting edge diagnostic technology to thoroughly and accurately diagnose not only pathology, but more importantly function. Most people that do not feel well have gone to their doctor and "everything seems fine". This is because most health care providers only diagnose pathology or disease. At Frontier Spine and Health Care we understand that disease arises from dysfunction, so to truly heal and prevent disease, we must assess the imbalances that lead to dysfunction and therefore disease.
Given the option, most people would prefer to be healthy and avoid illness if possible, but not many people are aware of the benefits of chiropractic internal medicine! The health care we provide can help those people achieve their health and wellness goals. For those patients who may already be in pain or dealing with unwanted symptoms, our approach offers a unique way to provide relief for many types of pain and conditions, including fatigue, stomach problems, skin conditions, immune related symptoms, and chronic pain! Relief and prevention are two of the reasons that Frontier Spine and Health Care's services have become so popular, both here in Miami and around the world.
Meet Dr. Tolmos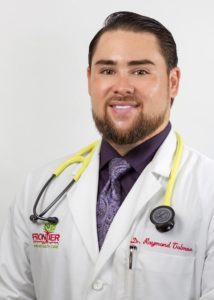 D r. Raymond Tolmos is a graduate of the Florida State University with a B.S. in Exercise Physiology from the college of Human Sciences. He then attained his Doctorate of Chiropractic from Palmer College of Chiropractic in Florida. He is also the first and only current Diplomate Internist (DABCI) in Dade or Broward county. Dr. Tolmos is essentially a holistic doctor that incorporates comprehensive methods of western diagnosis. This way he can communicate effectively with medical doctors and co-manages patients with other specialists in the community like rheumatologists, endocrinologists, gastroenterologists, and surgeons.
Along the way to his education Dr. Tolmos was a personal trainer at the Florida State gym, L.A. Fitness, and Gold's Gym as well. Besides one on one training and nutritional advice Dr. Tolmos also taught group exercise classes. He feels that all of these experiences to this point have helped him become a better Doctor of Chiropractic and diplomate internist.
Growing up he was an avid participant in all kinds of sports. Baseball and football being his favorite and also the ultimate cause of him becoming a Chiropractor.
At the age of 14, Dr. Tolmos was experiencing debilitating pain in his upper back and the base of his neck. He was having trouble sleeping and as a result his performance in both the classroom and on the field began to decrease.
He went to see a Chiropractor and it changed his life so much he has now decided to return the favor by living the Chiropractic lifestyle and trying to educate as many people as possible about the power that they have within them. He stills enjoys a very active lifestyle along with running his practice and to him the best part is…. It is all drug free!
Dr. Tolmos' vision is that Frontier Spine and Health Care can change the landscape of healthcare in the US. Providing high quality health care and focusing on predicting and preventing disease by diagnosing the underlying causes of physical, chemical, and emotional imbalances. The DABCI certification is a major part of that vision. What exactly is a DABCI?
Diplomate in Diagnosis and Internal Disorders (DABCI). Our physicians are trained in modern medical diagnosis, functional medicine, and natural therapeutics.  Chiropractic physicians with a DABCI post doctoral certification utilize conventional medical diagnostics, specialized functional testing, and wholistic medicine diagnostic evaluations. DABCI physicians routinely  employ methods such as blood laboratory studies, urinalyses, electrocardiograms, vascular doppler ultrasound, spirometry, DEXA bone density testing, salivary assay hormonal and neurotransmitter tests, IgG food allergy testing, diagnostic imaging to include x-ray, CT, MRI, comprehensive gastrointestinal stool analyses, and many other diagnostic tools.
A DABCI uses therapeutic methods which emphasize conservative and minimally invasive approaches and minimize risk to the patient. Diplomates in diagnosis and internal disorders use treatments such as clinical nutrition, dietetics, exercise, vitamin and mineral supplementation, homeopathic medicine, botanical medicine, acupuncture, natural hormone replacement, and pharmacologic counseling. Many conditions and disease states can be resolved by utililzing these natural methods. The Council on Diagnosis of Internal Disorders promotes our physicians as uniquely qualified to provide this type of comprehensive natural medical care.
Qualifications:  A DABCI degree (Diplomate of the American Board of Chiropractic Internists) requires doctors to attend and complete a 300 hour post doctorate course, pass a national certification examination and requires 12 hours of continuing education in advanced coursework each year. The DABCI program is recognized by the American Chiropractic Association (ACA) and certified by the American board of Chiropractic Internists (ABCI). The DABCI program is also one of 6 programs recognized and approved by the American Board of Chiropractic Specialties (ABCS).
Mission Statement:
To maintain and promote the chiropractic profession as primary health care providers, support the advancement of chiropractic, influence full scope practice within the profession and in current and future health reform legislation.
Affiliations and Awards
Official Chiropractor of the ISPS Softball League
President and Official Chiropractor of BNI Energy
Board Member of the Dade County Chiropractic Society
Member of the Florida Chiropractic Association
Member of the American Chiropractic Association
2012 and 2013 Miami Beacon Council Nominee for The Beacon Award in Healthcare
Member of the Consortium for a Healthier Miami-Dade
If you have any questions about our office, or would like to learn more about Holistic Primary Care at Frontier Spine and Health Care, please call us at 786-353-0740 today!