Meet Anai Montes. She is a mother of 2 beautiful daughters and a loving wife. She was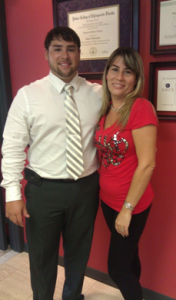 suffering from a lot of different debilitating symptoms. She would experience splitting migraines almost daily. Her mid back would ache so bad she would spend days in bed.
In fact, after a while, she would have to go to the hospital at least two times a month and even then the relief was only minimal. Ms. Montes was in a rare position. She ate nothing but fruits, vegetables, and lean meats. When not in excruciating pain she would exercise to the best of her ability. She was doing everything she possibly could to be healthy. Her body just would not cooperate.
After trying every type of pain relief from pills to shots she decided to give chiropractic a try. After the first adjustment she noticed a huge difference. After the first week she felt great. The visits to the hospital stopped. The debilitating episodes of pain stopped. The daily migraines stopped.
Now Ms. Montes is virtually pain free! She is so happy to have heard about chiropractic because it changed her life. She is much more active and can now enjoy going out on the boat with her husband and daughters whenever she wants, not whenever her back would let her. Her concentration has improved so much that she is even learning a new language now! Congratulations on all your success Ms. Montes! We are happy to have been at your service.