Carlos Chumbiauca was referred to our office by Dr. Tolmos. Before coming in Carlos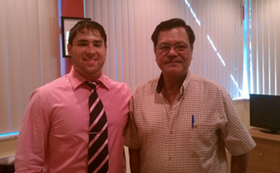 had been suffering from neck pain for 27 years. He had tried all kinds of treatments from nerve block injections to other chiropractors to try and alleviate the pain. All those attempts helped a little but the pain kept coming back just as strong. In fact, he had almost given up hope and came to the conclusion he would have to just live with the pain forever.
After only one month of care he began to see significant improvements. His neck pain was completely gone and he noticed his posture and energy levels improved. Carlos said he never thought the pain would go away, especially with all the previous treatments he tried.
He is very happy he found a place that helped him feel good again with medications or surgery. He is now exercising again and regaining his health that he once thought was lost. Carlos is so satisfied with the care he receives he is constantly referring in people that he sees struggling with chronic pain. Thank you Carlos and happy to be of service!!