Greidy Del Villar was referred to Dr. Tolmos by a classmate of his in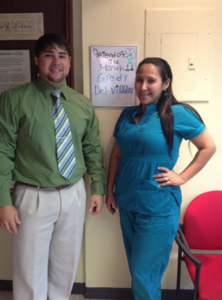 chiropractic school, Dr. Singletary. Dr. Singletary was helping Ms. Del Villar recover from an auto accident until she had to relocate to South Florida.
Greidy was suffering from debilitating headaches, neck pain, hip pain, and also pain in her wrist. Greidy works as a nurse and found it very difficult to work with the amount of pain she was in. Every time she had to bend or lift her hip and wrist would hurt. If she had a headache everything would hurt. Even after care from Dr. Singletary, Greidy did not feel as if though she was improving.
After about a month of upper cervical care Greidy started to notice that her headaches were a lot less severe and a lot less frequent. It took the second month review for Griedy to realize that she came in complaining about wrist pain because it was completely gone! Over time Greidy has seen her pains all decrease to a minimum and she still comes once every couple weeks to maintain her health.
Greidy is now exercising and eating healthier thanks to learning about the chiropractic lifestyle. She is so happy that she can now work without pain and function the way she wants to that she has already referred in a few friends. Very happy to help out Griedy!