All aspects of my life have improved since I started chiropractic. I was born with a rare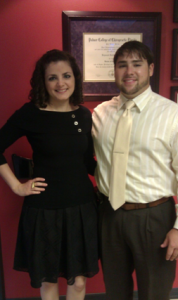 condition that makes my right leg shorter than my left one. Due to this condition, I have scoliosis in my spine. For many years, I have suffered daily from lower back pain, horrible migraines and muscle pain during my menstrual cycle.
I was unable to function at a normal level—it was painful to either take a walk or work out, doing all of the things that most of us take for granted on a daily basis.
When I started visiting Dr. Raymond's practice, I was so impressed. I feel blessed to be in Dr. Raymond's care. He is truly committed to his patients' well-being and listens when concerns are shared and offers guidance and explanations. He knows that healing takes place on all levels – physical, emotional, mental & spiritual.
Shortly after we began working together on my healing, I became migraine free. I have no lower back pain or muscle pain. I feel that I have my life back. It has been a true miracle.
Chiropractic has been a tremendous help for me. I recommend Dr. Raymond because he is a wonderful healer, educator, and chiropractor. God bless you, Dr. Raymond!
Amelia Rozas
Architect and Designer
Amelia Rozas Design, Inc.