Mr. Armando Sanchez is a very hard working man that would suffer from recurring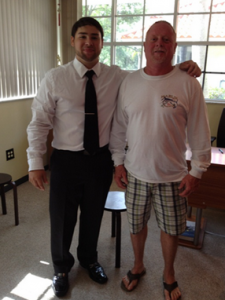 bouts of lower back pain for years. His son-in-law found Dr. Tolmos online and sent Mr. Sanchez in as his low back was inhibiting him from moving let alone working. Mr. Sanchez walked in gingerly limping and slightly leaning to keep pressure off of his low back. He had been to other chiropractors before but never received an upper cervical adjustment.
Immediately following the first adjustment Mr. Sanchez felt relief. Two days later he walked in without a limp and was back at work. In 3 weeks of care Mr. Sanchez was proud to report he was completely pain free in his low back and feeling great even while working.
For those out there that experience low back pain that inhibits putting on your socks, going up and down stairs, standing for short periods of time, and even sleeping, upper cervical care can help your body heal the way it is supposed to so you can do the things you need/want to do. Mr. Sanchez is a great testimony to that as he reports no more restrictions from his low back! Happy to be able to help out and the best part, no side effects!!