Meet Dillia Silva. Dillia was referred into the office by her daughter Carolina who saw her pains vanish and her health improve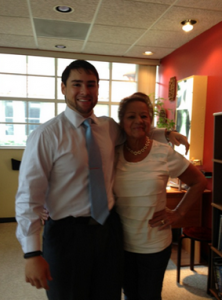 tremendously after being under chiropractic care. At first Carolina did know if she should refer her mother in because she thought maybe her health problems were out of the scope of chiropractic care.
Her mother Dillia, was suffering from hepatitis and her liver was malfunctioning. In fact, when she came in for a free evalution on a family day, she was completely yellow! Her eyes looked highlighters she was so jaundiced. Besides the discoloration, Dillia was also in a lot of pain due to irregular digestion and weak muscles. She would get tired from sitting, standing, and especially walking. Dillia said it was very hard for her to go up and down stairs in her weakened condition.
After a couple weeks of upper cervical adjustments we saw Dillia's color start to revert back to normal. 3 months later and she was back to normal. Even her eyes had white in them again. The change in skin color was extremely important because it meant that Dillia's liver was now functioning correctly again! She made some changes to her diet and did a couple exercises recommended by Dr. Tolmos and now Dillia says she can sit, stand, and even go up and down stairs without pain or getting very tired!
Her digestion has also improved thanks to her liver functioning better and Dillia says she hasn't felt this healthy in a long time! We are so happy to have been able to help change another life by unlocking the body's own potential to heal. No medication necessary!