DNA Based Nutrition at Frontier Spine and Health Care
Have you ever wondered why some supplements work for some people but not for others? Are you tired of trying to get healthy without any real direction or idea of what to do? Stop guessing and start testing!
We provide a Truly Unique Custom Designer Nutritional formula Inspired By Your DNA. This is the only company that takes your DNA to create truly one-of-a-kind custom nutrition plan made just for you.
Pick up the phone and call us at (786) 353-0740 to schedule your appointment today!
How is Our DNA Test Different?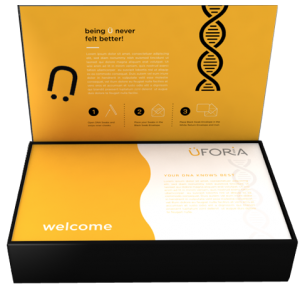 ÜFORIA™ is the one and only company to offer personalized designer ÜTRITION created specifically
for YOU, based upon your DNA profile. Our DNA Test unlocks the secrets to your "Actionable Genes" and their influence on your body. With nearly 400 million unique formulas, this is your very own customized nutrition. Decades in the making – this is Exclusive and Proprietary software and technology.
How Your DNA becomes Customized Nutrition
Your saliva contains DNA from cells in your mouth. The ÜFORIA Kit contains instructions on collecting and providing your sample to be analyzed from our CLIA-certified lab.
The lab then processes your DNA, and your genetic data is used to generate your personalized report custom designer nutrition that contains nearly 100 peer-reviewed plant based ingredients along with raw food, super foods, prebiotics, enzymes, vitamins and minerals.
Quality Ingredients formulated for you

• AC-11 • Acai Juice Powder • Acerola Powder Ext. • Apple Extract • Alpha Lipoic Acid • Artichoke Extract • Astaxanthin • Astragalus Root Powder • Beetroot Juice Powder • Bilbery Ext. • Biotin • Brocoli Juice Powder • Brocoli Sprout Extract • Brocoli Powder • Burdock Root Powder • Carrot Juice Powder • Choline Biltartrate • Citric Blofavonoids Powder • Cranberry Juice Powder • Dong Qual Extract • Enzyme Blend • Fermented Papaya Prep • Folate • Frankincense
• Fructooligosaccharides • Garlic Powder • Ginko Biloba Ext. • Gotu Kola Ext. • Grape Seed Ext. • Grape Skin Ext. • Green Tea Ext. • Kaempferia Parviflora Ext. • Kale Powder • Kiwifruit • Maltake Mushroom Ext. • Mangosteen Ext. • Milk Thistle Ext. • Mixed Carotenes • Organic Black Currant Ext. • Organic Blueberry Ext. • Organic Flax Seed Powder • Organic Reishi Mushroom Ext. • Organic Shitake Mushroom Ext. • Pomegranate Ext. • Quatrafolic • Quercetin – 98% Total • Raspberry Juice Powder • Resveratrol – 50% Total

• Rosemary Ext. • S Acetyl Glutathioneas EMOTHION • Schizandra Berry Powder • Selenium • Spinach Juice Powder • Spirulina Powder • Strawberry Juice Powder • Tomato Powder • Trimethylglycine • Turmeric Ext. • Ubiquinol • Ubiquinone • Vitamin A • Vitamin B1 • Vitamin B2 • Vitamin B3 • Vitamin B5 • Vitamin B6 • Vitamin B12 • Vitamin E • White Tea Extract • Wolfberry• Goji Berry Ext. • Zinc
Contact our office today and find out how you can become the healthiest version of you today!
For more information give us a call at (786) 353-0740.
Introduccion a Uforia en espanol