No pain no gain! The age old mantra that holds truth, yet contributes to many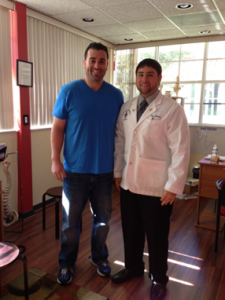 individuals pushing their body through an injury that needs attention. Meet Noel Alvarez. Noel has a very stressful job and recently ran into some issues with his health so he decided that he needed to make a change.
Noel, having been an athlete his whole life, decided to participate in crossfit. While crossfit can be a very effective training technique, it can also be very harmful when not done properly or when there is a contraindication to exercise.
One day Noel felt something in his shoulder while exercising. The next day he woke up in a lot of pain and for weeks there was no improvement. Again, Noel decided it was time for action.
Noel came to see Dr. Tolmos for chiropractic care. Through upper cervical adjustments to the spine, Noel's shoulder began to heal much more efficiently. Noel reported that his pain decreased from a 9/10 while exercising to completely disappearing all on its own.
Noel was amazed that we did not have to do any therapy or anything to his shoulder at all. He now understands that the power that made the body heals the body, and that power comes from within.
Noel is currently enjoying an extremely healthy lifestyle and even with all his stress feels great. Congratulations on your success Noel!