Scoliosis
Madison Holsomback is a 14 year old star! Madison loves the performing arts and has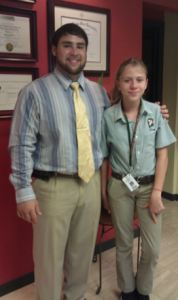 dreams to be an aspiring actress. The only thing holding Madison back, ironically enough, was her back. Madison was diagnosed with scoliosis which is an abnormal curvature of the spine. This normally causes rapid degeneration of the spine and chronic pain that can affect most of her spine.
Madison's mom brought her in to try and avoid the degeneration that occurs with age, as well as the bracing and possible surgery that comes along with the progression of the condition. After six months of adjusting only Madison's Atlas (upper cervical chiropractic) we found a reduction of her curve by six degrees! Madison was getting very close to the bracing stage of scoliosis and was so happy to find out that with chiropractic she could not only stay out of the brace, but also feel so much less pain!
Madison reported that as soon as we started adjustments her pain wasn't as severe and went away a lot quicker. This allowed Madison to play and even bigger role and enjoy her acting the way it should be! Pain free! Madison is just one of the patients that have found success in chiropractic. If you know someone with scoliosis, tell them about this story, you might change a life!!