Meet Ilka Jarquin. Ilka was referred into the office by one of her friends. Ilka was tired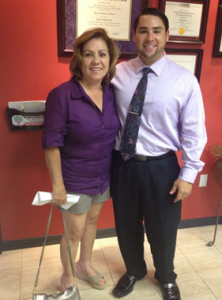 of always being in pain. Her hands were always numb and her shoulders had sharp pains all day. She felt tension in her muscles all around her shoulder blades and upper back. The pain would run down her spine and hurt her low back as well. This was a daily routine for Ilka. She tried pain meds and massages but nothing gave her lasting relief.
After only 3 upper cervical adjustments, the numbness in Ilka's hands was completely gone. After a couple weeks of care her shoulder pain was disappearing. Little by little she was noticing her normal daily pains were just not there. Instead of treating each and every symptom with a therapy or medication, we treated Ilka's nervous system with upper cervical adjustments. We were able to help her body heal itself, the way it was meant to.
As we were discussing all of her improvements she remembered that even her knees used to be in pain and that she had forgot how much they improved as well. Very happy to see another patient take control of their health and their life! Congratulations on feeling great and thank you for all of the referrals Ilka!